Our Primary Goal
Our goal is to be a means of rewarding young people for making wise choices at home and school. We hope to teach the beauty, excitement, and stress-relieving benefits of outdoor activities. We believe that an active outdoor lifestyle is a great alternative to the pitfalls that many young people encounter.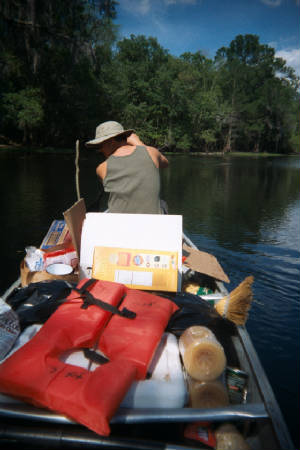 Who We Are
We are an outdoor recreation club and NOTHING more. We have no official legal status. We are not registered, licensed, incorporated, or any other kind of official organization; nor are we in any way associated with any other organization. We are simply a group of young people and adults interested in providing young people with outdoor experiences. There are no dues. The only cost is that which is directly associated with a trip or an activity.





These pictures are from a Spring Break trip of several days Canoe/Camping on the Sante Fe River. The pictures are hyperlinked to canoe outfitters in the area. Try them! You can rent canoes or get transportation services to be picked up and returned to your vehicle.






Basic Policies
The Green Swamp Youth Campers have a non-discrimination policy for race and religion, but we reserve the right to base inclusion decisions on lifestyle and behavior choices. It is important that campers be persons that are respectful of the outdoors and each other. They need also to be persons that take care of their physical health so that they can actively pursue outdoor activities. We wish our outings to be pleasant and wholesome, so to that end, we will not include those who are divisive, disruptive, or participate in harmful activities (i.e., smoking, drinking, drugs). Our group welcomes those that will fit into our camaraderie.



While canoeing down the river we saw many turtles, fish, a gator or two and a doe feeding by the bank. Dreamweaver, our musical selection, fits the mood of the river. Truly a river of dreams, the Santa Fe actually disappears into a sinkhole and comes back to the surface three miles away!